For the second consecutive year, the NBA Finals will feature more efficient scoring than Derek Jeter on the prowl.
Not only are the Heat and Spurs first and second, respectively, in offensive efficiency in the playoffs, they also packed the same one-two punch in the "clutch" (within five minutes to go, margin of five or less) category. Let's take a walk through the shooting efficiency of two squads sure to make this one of the most exhilarating championships of the last decade.
Shooting Zones
The Heat have shot more efficiently in 10 of the 14 zones tracked by NBA.com during the playoffs.
LeBron James jolts Miami's offense at the rim, while Dwyane Wade and Chris Bosh keep the defense honest with their strong mid-range games. As for behind the arc, the Spurs (39.2%) trail the Heat (39.5%) by just three tenths of a percent in the playoffs.
Hottest 3-Point Shooters
Which players in this series have the hottest hand from deep?
Because the sample size is low — both teams logged a combined 33 playoff games — I made a chart displaying a player's 3-point percentage (horizontal axis) against 3-pointers made (vertical axis). The top right corner is the best and the bottom left is the worst. It took five made threes to qualify.
Danny Green is on an island and Heat fans remember him well. (The dots are the key indicators of shooting performance in this chart.)

In last year's NBA Finals, Green hit 66 percent of his threes (25/38) in Games 1-5, torching Miami and their late closeouts. His efficiency dove in Game 6 and 7, however, connecting on just 18 percent (2/11), but he still set the NBA Finals record for made threes in a series with 27.
Here are nine NBA Finals shooting records held by current Heat and Spurs players:
Most 3-point field goals made in a half: 7 (Allen, 2010)
Most 3-point field goals made in a game: 8 (Allen, 2010)
Most 3-point field goals attempted in a game: 12 (Lewis, 2009)
Most free throws made in a game: 21 (Wade, 2006)
Most 3-point field goals made in series: 27 (Green, 2013)
Highest 3-point field goal percentage in series: 55% (Green, 2013)
Most 3-point field goals made in five-game series: 16 (Lewis, 2009)
Most 3-point field goals attempted in five-game series: 40 (Lewis, 2009)
Most 3-point field goals made in six-game series: 22 (Allen, 2008)
Quick Hitters
Green's current playoff shot chart is ferocious.
He could present some problems for a player like Wade again, someone who likes to freelance often defensively and attack passing lanes. With the Spurs so proficient at moving the ball around quickly, Miami's discipline defensively will play a big part in neutralizing the Spurs sniper. Sometimes shooters get hot regardless and it's not necessarily at the fault of the defense.
The Heat are coming off their most efficient game in the LeBron Era.
Didn't see this until now, but the Heat's offensive rating in Gm 6 was 132.6. Best offensive playoff game in Big 3 era. Against NBA's top D.

— Tom Haberstroh (@tomhaberstroh) June 1, 2014
The harmonious Spurs offense moves the ball like a hot potato, leading to bunny threes like this one from Saturday night.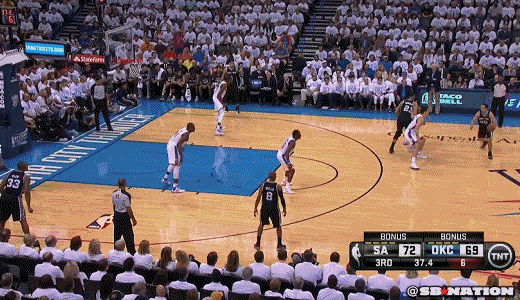 LeBron James is averaging 27.1 points on 56 percent shooting through 15 playoff games. This is absurd. He's also on the cusp of making another dent in NBA history.
According to Basketball Reference, only one player has ever averaged 26 points on 54 percent shooting while playing in at least 17 playoff games: Shaquille O'Neal in 2000. And Shaq rarely attempted a shot outside of five feet…
Coming Tomorrow: Comparing the front offices of the Heat and the Spurs.
All statistics used in this article were from ESPN.com, NBA.com, and Synergy Sports.
NBA Finals Previews
Part 3: Weighted Ages of Heat, Spurs